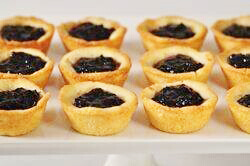 · 2 cups all-purpose flour
· ½ cup (100grams) granulated white sugar
· 10 tablespoons (140 grams) unsalted butter, at room temperature
· 2 to 3 tablespoons cold water
· ½ teaspoon backing powder
· 1 large egg
· 1 cup RJT Whole Berry Jam
1. Pulse flour, confectioners' sugar, and a pinch of salt in a food processor to combine. Add butter, and process until the mixture resembles coarse meal, about 10 seconds. With processor running, add cold water, 1 tablespoon at a time, until a dough forms (do not process more than 20 seconds).
2. Cut dough in half; shape each half into a disk. Wrap in plastic wrap; refrigerate at least 30 minutes, or up to 1 day. Cut 1 disk into 12 pieces; on a lightly floured work surface, flatten each piece into a 2-inch round. Press a round onto bottom and up sides of each cup of a 12-cup nonstick mini-muffin tin. Repeat with remaining disk of dough and second muffin tin. Refrigerate 30 minutes. Preheat your oven to 400 degrees.
Once your pastry has chilled, remove one portion from the refrigerator and peel off the top piece of parchment paper. Using about a 2 1/2 inch (6 cm) cookie cutter, cut out rounds of pastry and gently press them into the muffin cups. Then fill each tart shell about two-thirds full with RJT Whole Blueberry jam. Bake for about 12 -14 minutes or until golden brown around the edges. Remove from oven and place on a wire rack to cool.

Makes about 30 - 2 inch (5 cm) Jam Tarts.