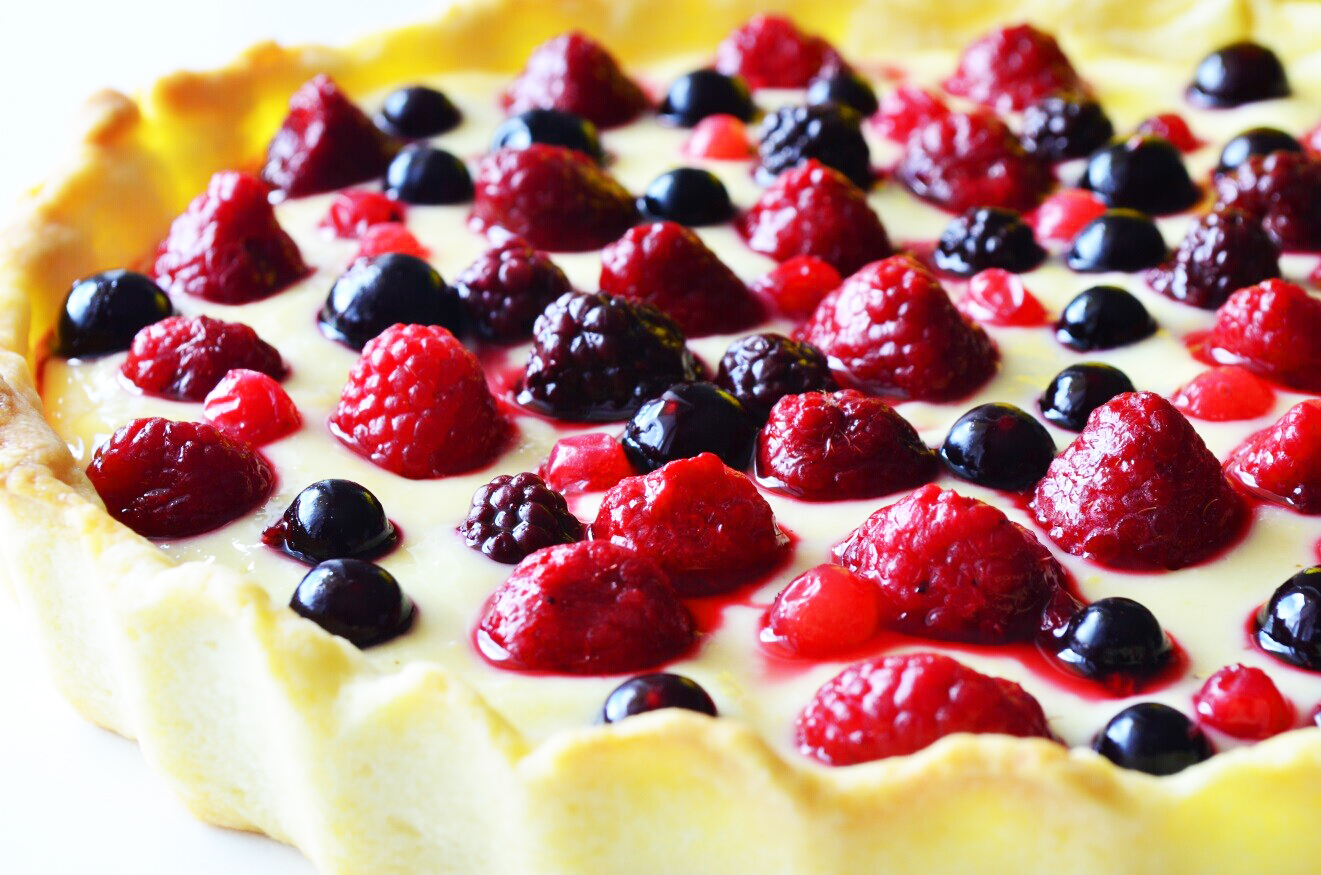 FOR shortbread crust
1 cup (130 grams) all purpose flour
1/3 cup (35 grams) confectioners (powdered or icing) sugar
1/8 teaspoon salt
1/2 cup (113 grams) cold unsalted butter, cut into pieces
Filling:
4 ounces (115 grams) full fat cream cheese, at room temperature
1/2 cup (100 grams) granulated white sugar
2 large eggs, at room temperature
2/3 cup (160 ml) cream
1/2 teaspoon pure vanilla extract
1 teaspoon grated lemon or lime zest (optional)
6 ounces (170 grams) fresh berries, washed and patted dry
Shortbread Crust:
You will need either an8 or a 9 inch (20-23 cm) tart pan with a removable bottom.
In your food processor, place the flour, sugar, and salt and process to combine. Add the butter and pulse until the pastry just starts to come together and form clumps. Place the pastry in your tart pan and, using your finger tips, evenly press the pastry onto the bottom and up the sides of your pan. Gently pierce the bottom of the crust with the tines of a fork. (This will prevent the pastry crust from puffing up while it bakes.) Cover and place the pastry crust in the freezer for 15 minutes to chill. (This will help prevent the crust from shrinking while it bakes.)
Preheat your oven to 425 degrees F (220 degrees C) and place rack in center of oven.
When ready, place the tart pan on a larger baking pan and bake until the crust is golden brown, about 13 -15 minutes. Remove from oven and place on a wire rack to cool while you make the filling.
Reduce the oven temperature to 350 degrees (180 degrees C).
Filling: In your food processor (you can also mix the ingredients together in your electric mixer or with a hand mixer) place the cream cheese and process until smooth. Add sugar and process until incorporated. Add the eggs and process until thoroughly combined. Add remaining ingredients and process until well blended and smooth.
Carefully pour the filling into the pre-baked tart shell. Arrange the fresh raspberries evenly in the filling and then bake the tart for about 30 - 35 minutes or until the filling is set (test by gently shaking the pan). Transfer tart to wire rack to cool.
Serve warm, at room temperature, or cold. Cover and refrigerate leftovers.
Makes about 8 - 10 servings.