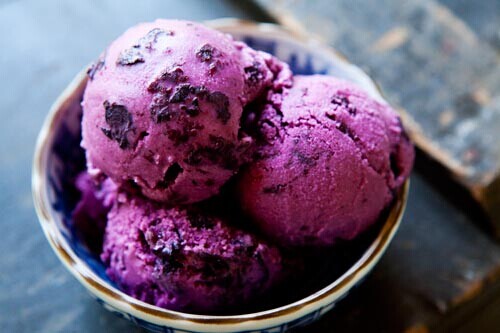 · 3 cups R.J.T frozen blueberries (about 1 1lb)
· 3 Tablespoons lemon juice
· 3/4 cup to 1 cup of sugar (depending on how sweet your blueberries are, and how sweet you want the result to be)
· 1/4 teaspoon salt
· 1/8 teaspoon cinnamon
· 1 1/2 cups full fat plain yogourt (full fat yogourt is preferred, if you use low-fat or non-fat yogourt, substitute 1/4 cup of it with heavy whipping cream)
· 1/2 cup whole milk
1. Place the blueberries, lemon juice, sugar, salt, and cinnamon in a medium saucepan. Heat on medium heat, stirring, until all of the sugar has dissolved. While the mixture is heating, use a potato masher to mash up the blueberries. When all of the sugar has dissolved, remove from heat and let cool for 10 minutes.
If you want a smooth result, you can process the cooled mixture in a food processor, or skip, in which case you'll have pieces of blueberries which can add flavorful texture to the frozen yogurt.
2. Stir in the yogurt and milk until completely incorporated. Chill the mixture in the refrigerator for several hours (or overnight) until completely cold.
Process the blueberry yogurt mixture in your ice cream maker according to manufacturer's instructions (usually about 25 minutes). Serve immediately (it will be soft) or let it firm up a bit by freezing it for several hours.