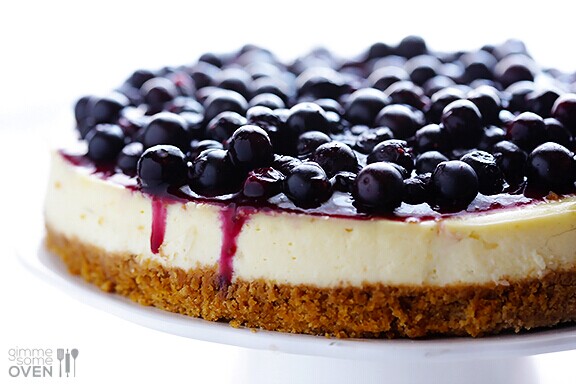 INGREDIENTS
FOR CRUST
· 5 tablespoons unsalted butter, melted, plus room-temperature butter for pan
·12 graham crackers (3-by-5 inch)
·1/4 cup sugar
· 1/4 teaspoon coarse salt
FOR FILLING
· 2 1/2 pounds bar cream cheese, room temperature
· 1 1/2 cups sugar
· 1/2 teaspoon coarse salt
· 4 large eggs
· 1 cup sour cream
for topping
· 1 cup RJT Whole Blueberry Jam
1. Preheat oven to 375 degrees. Make crust: Butter a 9-by-3-inch spring form pan. In a food processor, pulse graham crackers until fine crumbs form; add melted butter, sugar, and salt, and pulse to combine. Press crumb mixture into bottom and about 1 inch up side of pan. Bake until set, 12 to 15 minutes; let cool on a wire rack. Reduce oven to 325 degrees.
2. Set a kettle of water to boil. Make filling: Using an electric mixer, beat cream cheese on medium until fluffy, scrap down side of bowl. Gradually add sugar, beating until fluffy. Beat in lemon zest and juice, and salt. Beat in eggs, one at a time, scraping down side of bowl after each addition. Beat in sour cream.
3. Wrap bottom half of pan in foil. Pour in filling; place in a roasting pan. Pour in boiling water to come halfway up side of spring form. Bake until just set in center, about 1 3/4 hours. Remove pan from water; let cool 20 minutes. Run a paring knife around edge; let cool completely. Cover; chill overnight put RJT Whole Blueberry Jam before serving.