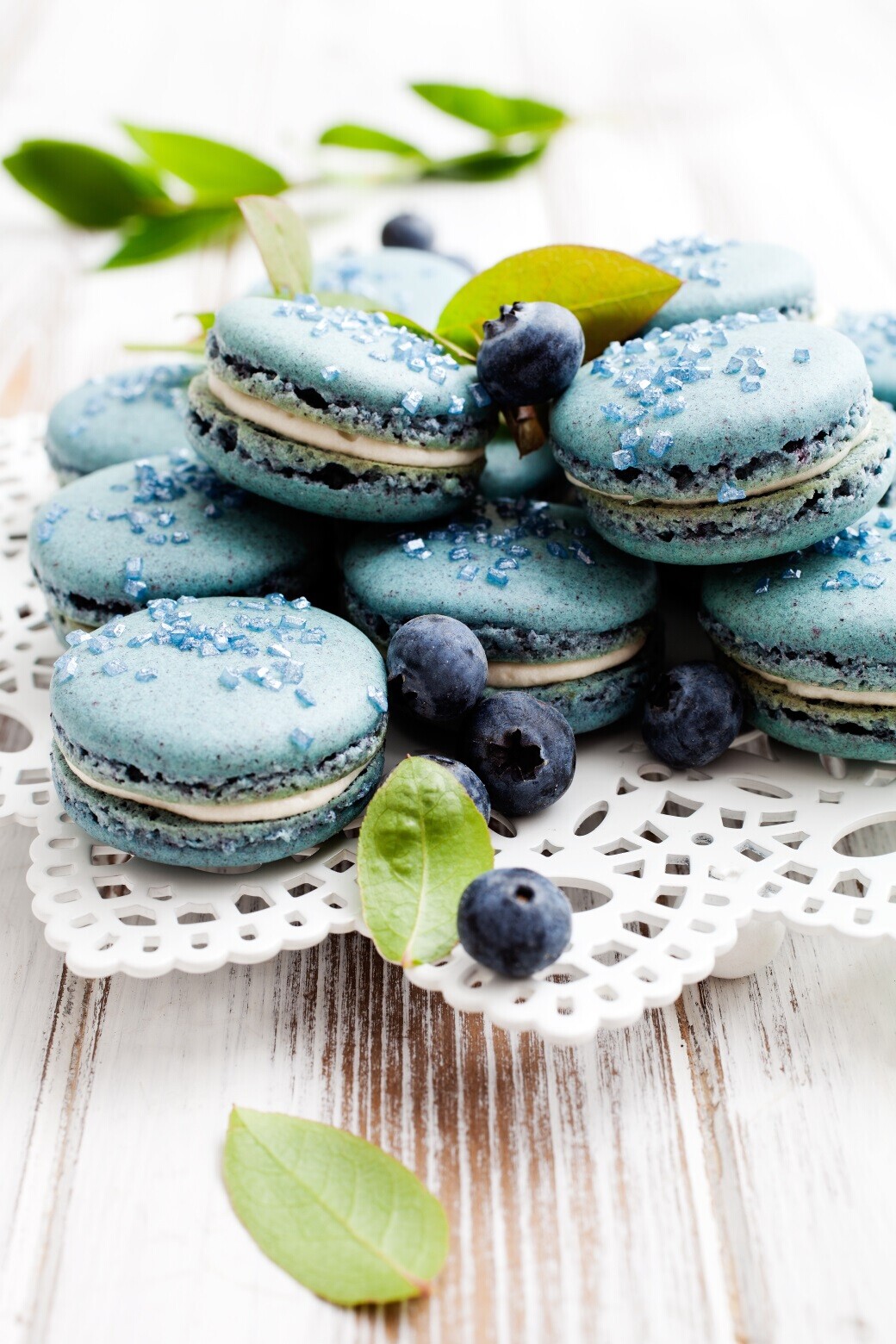 INGREDIENTS
Blueberry Shells
· 200 grams confectioner sugar
· 110 grams almond flour
· 2 teaspoons RJT Blueberry jam
· 2 teaspoons blue powdered food coloring, optional
· 3 large egg whites, room temperature
· 25 grams granulated sugar
White Chocolate Coconut Ganache
· 4 ounce white chocolate
· 2 ounce heavy whipping cream
· 2 teaspoons coconut rum
· ¼ teaspoon coconut extract
Directions
1. Line 2 baking sheets with parchment paper or silicone mats.
2. Sift together confectioner sugar, almond flour, finely ground blueberries, and blue food coloring (if desired) a couple of times into a medium bowl.
3. With a hand mixer fitted with the whisk attachment, whip egg whites until they appear foamy, approximately 30 seconds. While the mixer is running carefully pour in the granulated sugar in a slow stream and continue beating the whites on high until they reach a consistency similar to that of shaving cream. Be careful not to over-beat the egg whites, or the meringue will be too dry.
4. Add the sifted dry ingredients to the meringue all at once. Begin folding continue folding until the batter resembles a thick pancake batter. The folding should not take more than 50 strokes.
5. Fill a pastry bag fitted with a plain tip with the batter and pipe small rounds (1.5 inches in diameter) onto parchment paper or silicone mats lined baking sheets. Let the macarons sit out for 30 minutes to an hour to harden their shells a bit.
6. Preheat the oven to 280 degrees F.
7. When ready, bake one sheet at a time for approximately 16-17 minutes, depending on the macaron size they might require a longer baking time. Allow them to cool, then transfer to a wire rack.
8. While shells are baking prepare white chocolate ganache.
9. Bring heavy whipping cream to a boil and pour over the chopped white chocolate, making sure the chocolate is completely covered with heavy whipping cream. Let the chocolate rest for a minute or two.
10. With a spatula or wooden spoon gently stir the chocolate into the heavy cream until completely smooth. Add rum and coconut extract.
11. Place ganache in the refrigerator for at least 2 hours allowing it to chill properly.
12. Once chilled, remove from the refrigerator and fluff up with a whisk.
13. Fill a pastry bag with the white chocolate coconut ganache and pipe a small amount onto half of the macaron shells. Sandwich together. Refrigerate for 24-48 hours. Bring to room temperature before serving.