R.J.T BLUEBERRY SPREADS
Most of the blueberry jams on the market at present are made with immature and low-grade blueberries or blueberry concentrate, and use additives, which effectively lower both price and the quality.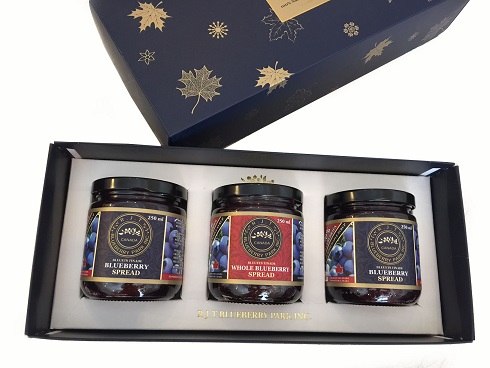 R.J.T's 90% blueberry jam and 90% whole blueberry spread are special and unique because:

1: Made exclusively from mature, Grade A blueberries.
2: Uses maple syrup instead of sugar.

3: Uses natural pectin extracted from the fruit as a thickening agent.
4: Free of preservatives.
5: Free of additives.
6: Made in small batches to ensure quality.
R.J.T's 90% WHOLE BLUEBERRY SPREAD: The blueberries in Whole Blueberry Jam are whole and this jam is preferred by customers who like its taste and texture. This type of jam goes well with yogurt and ice cream, and is perfect for cooking.
R.J.T's 90% BLUEBERRY SPREAD: Crushed blueberries are used for Blueberry Jam, which intensifies the flavour of the product. The materials and ingredients of blueberry jam are identical to those used for whole blueberry jam. Grade A blueberries constitute more than 83% of the ingredients in both jams.
Once the jar has been unsealed, it should be refrigerated and eaten as soon as possible.
We pledge to deliver the highest quality spreads to every customer!
Ordering Information:
Selling season: year-round

Customers are welcomed to call in for further information or purchase the products online.
Tel: 604-381-4562
Fax: 604-381-4563

E-mail: contact@rjtblueberry.com
About Maple syrup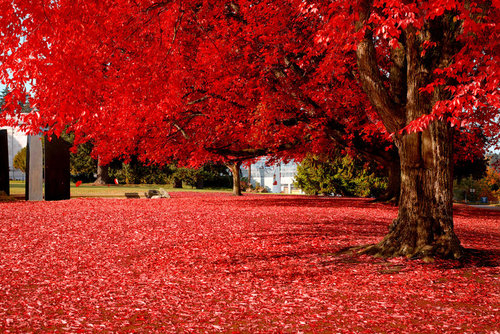 CANADIAN MAPLE SYRUP
Eighty-five percent of the maple syrup in the world comes from Canada. Maple syrup consists of saps from maple trees and identified as the 'liquid gold' due to the complex procedure require to process it and its rich nutritive values.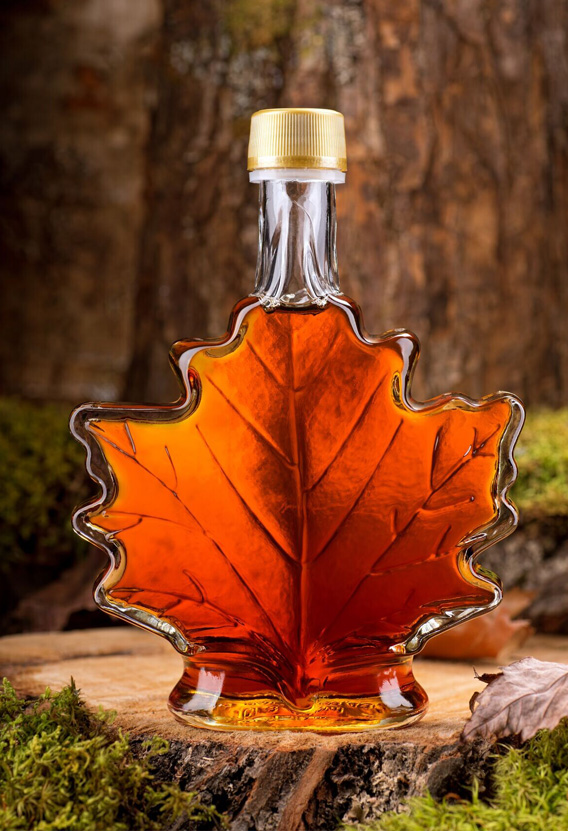 Nutritive Values:
Maple syrup contains organic acids, vitamins and 10 rich mineral substances (See Table A). It is lower in calories than cane sugars, fructose and corn sugars. The sugar content of maple syrup is 66% of all ingredients, while the sugar content of honey ranges from 79% to 81%.
Maple syrup has the nutritional capability of refreshing the brain and body and is a very healthy food product for growing children. In addition, the antioxidants it contains help to boost the human immune system.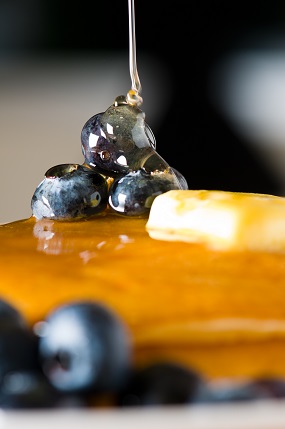 Production of Maple Syrups
The processing required to produce maple syrups is complicated. Maple saps have to be collected in March and April, as the process can only be conducted when the temperature is below 0° C at night and above 5° C in the daytime. Farmers collect maple saps by drilling a 5 centimeter deep hole into maple trees that are over 40 years old and insert a duct into the hole. In order to ensure that this does not harm the maple tree and keeps it recoverable, it is important that no more than one hole to be drilled into a maple tree with a 25 centimeter diameter. When maple syrup is produced, the collected saps should be boiled in a big iron pot to evaporate their water content. The cooking temperature should be 4° C above the water boiling point. This technique has been utilized in Canada for generations and is recognized as a Canadian tradition.
Approximately 30 L to 45 L of maple saps could produce 1 L maple syrups.
Food Safety:
Maple syrup is one of Canada's most well-known products. Its production is strictly monitored by the CFIA to guarantee its safety. Maple syrup does not contain any artificial colors or other additives and is oil-free. We guarantee that the maple syrup we use in our products is 100% natural and does not contain any artificial colours, additives, or oils.
Table A